The designing and building of an Orthodox Christian temple is a sacred task; and its interior beautification with iconography is indeed the crowning achievement. For, by transforming holy space where we gather for prayer with colorful depictions of Christ, His Most-Blessed Mother, the Apostles, scenes from Holy Scripture, and numerous saints. We elevate and sanctify our unique liturgical surroundings for the highest possible purpose. Icons are not only conducive to our form of worship, but more importantly. They are employed to demonstrate and express the ever-existent relationship between God and man – that "God is with us!" This is why icons may rightly be referred to as "windows into heaven." Because they depict that which can be "seen" and witnessed through the eyes of spirituality.
The Mother of God Enthroned and Archangels Michael and Gabriel
The Theotokos and Ever-Virgin Mary appears here as the Queen of Heaven. She is enthroned who once enthroned Christ God in her womb and on her lap as a small child. It is known as "Cyprus," "Cypriot" or "Kiprskaia," because it was in Cyprus that this pattern type was first established. The Theotokos is flanked by the Archangels Michael (right) and Gabriel (left). This icon is placed in the apse of the church. Architecturally, the apse is the meeting point of the roof and the floor and symbolically, the meeting point of heaven and earth. The Theotokos is considered the heavenly ladder by which God descended to earth. Her prominently placed icon reminds us that she is the "example" and not the exception" of how we should live a life well pleasing to God.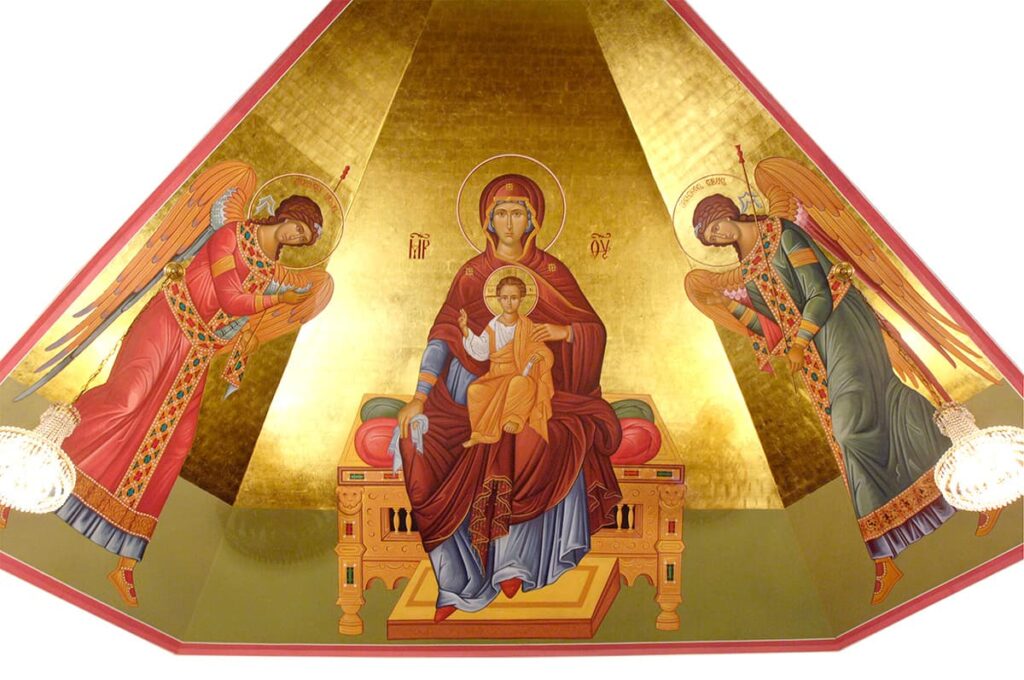 The Four Liturgists
Within the altar's sanctuary, are depicted icons of the four saints of the Church to whom are ascribed Divine Services.
St. John Chrysostom was a fourth century Archbishop of Constantinople. He was imbued with an extraordinary gift for preaching; a charisma which earned him the title "The Golden Mouthed". Because of his charismatic sermons and the beautiful poetic prayers that he wrote, his Divine Liturgy is the most celebrated throughout the church's liturgical year. His feast day falls on November 13.
St. Basil the Great was another fourth century Archbishop, but within the Cee of Caesarea in Cappadocia. St. Basil's liturgy differs distinctly from Chrysostom's by the fact that the Eucharistic Canon is substantially longer and much more didactic – having the ability to convey the teachings and theology of the Church. For this reason, St. Basil's liturgy is celebrated on the five Sunday's during Great Lent, Great and Holy Thursday and Saturday, for the feasts of the Nativity of Christ and Theophany, as well as St. Basil's own feast day on January 1.
Holy Apostle James, Brother of the Lord, was the firs bishop of Jerusalem. As a pillar of the Church and a good and just leader, he became an early target of tho who persecuted Christians. He was given a martyr's death by being thrown from the temple tower and stoned. We commemorate his godly repose on October 23. This Apostle-Saint also has a Eucharistic liturgy ascribed to him, however, because this liturgy differs so significantly and drastically from the synergistic format of St. John's and St. Basil's liturgies, James' liturgy is seldom celebrated – even on its one and only prescribed day of its writer's feast.
St. Gregory the Theologian, an earlier fourth century Archbishop of Constantinople, wrote the sublime and moving Liturgy of the Presanctified Gifts. This liturgy is celebrated only during the Great and Holy Fast – most notably in the evenings on Wednesdays and Fridays, and the first three days of Holy Week. His feast day is on January 25.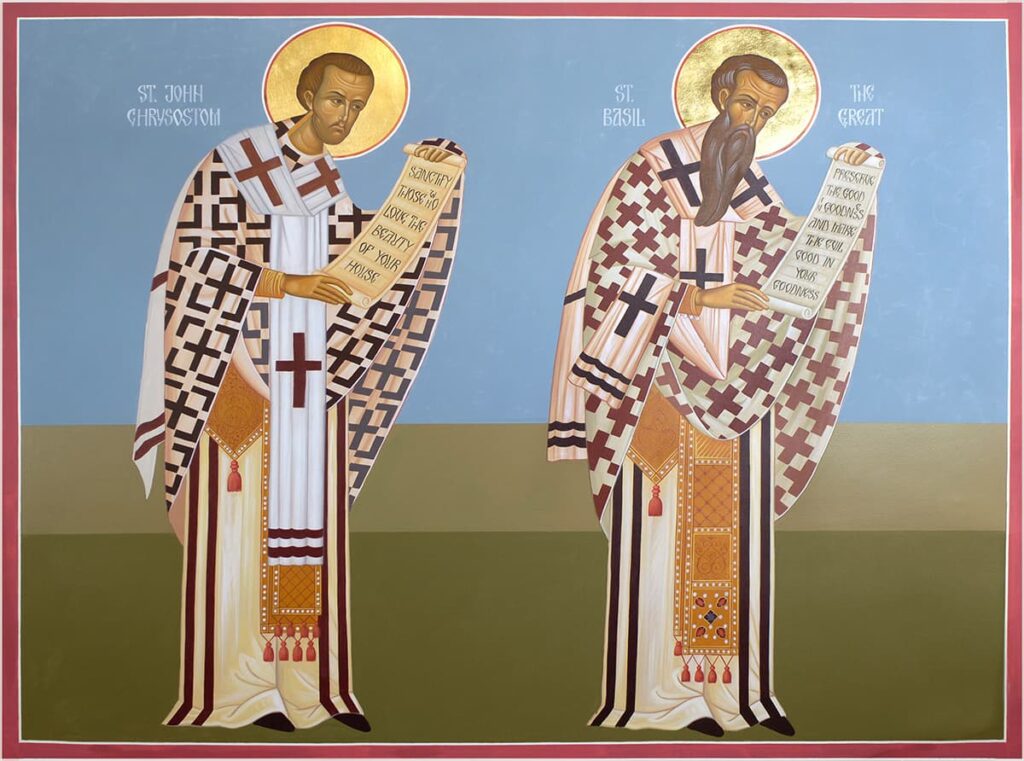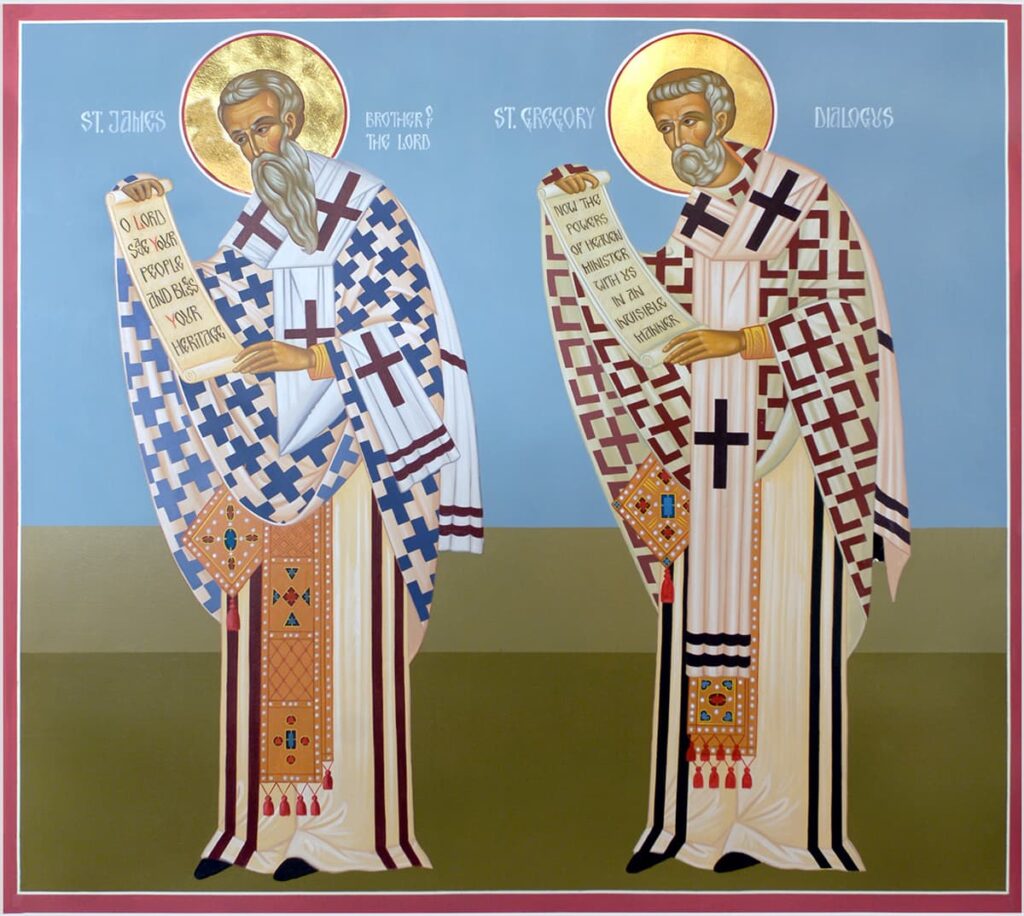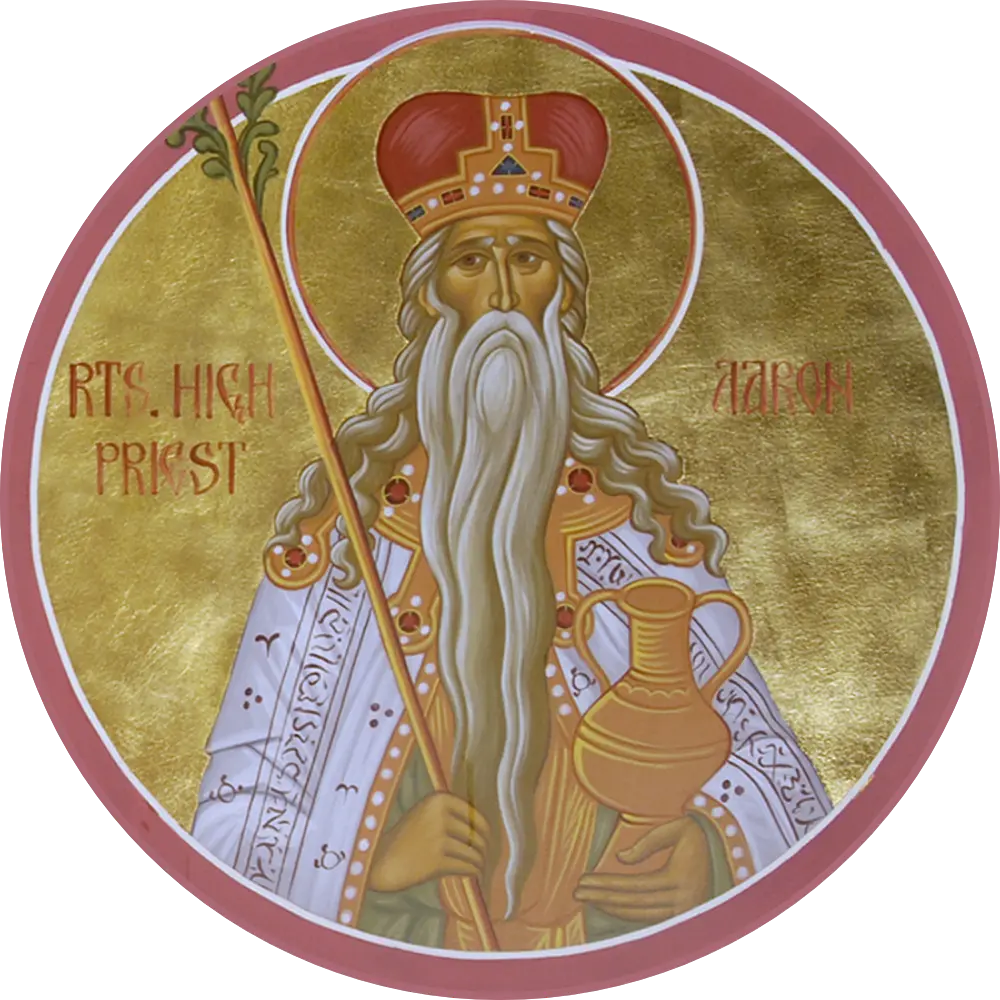 The High Priest Aaaron
But Moses said to the LORD, "Oh, my Lord, I am not eloquent, either heretofore or since thou hast spoken to thy servant; but I am slow of speech and of tongue." Then the LORD said to him, "Who has made man's mouth? Who makes him dumb, or deaf, or seeing, or blind? Is it not I, the LORD? Now therefore go, and I will be with your mouth and teach you what you shall speak." But he said, "Oh, my Lord, send, I pray, some other person." Then the anger of the LORD was kindled against Moses and he said, "Is there not Aaron, your brother, the Levite? I know that he can speak well; and behold, he is coming out to meet you, and when he sees you he will be glad in his heart. And you shall speak to him and put the words in his mouth; and I will be with your mouth and with his mouth, and will teach you what you shall do. He shall speak for you to the people; and he shall be a mouth for you, and you shall be to him as God. And you shall take in your hand this rod, with which you shall do the signs."
Exodus 4:10-17
Aaron was the older brother of Moses and is considered to be the first High Priest from the Tribe of Levi. Aaron often spoke on behalf of his brother because of Moses' "slow speech" (Ex. 4: 10-17). Aaron is depicted in Old Testament priestly vesture (Exodus Chapters 28 & 29), and holds a budding staff described in the Book of Numbers (17:1-13). He also holds a cruet of wine to symbolize the Eucharist.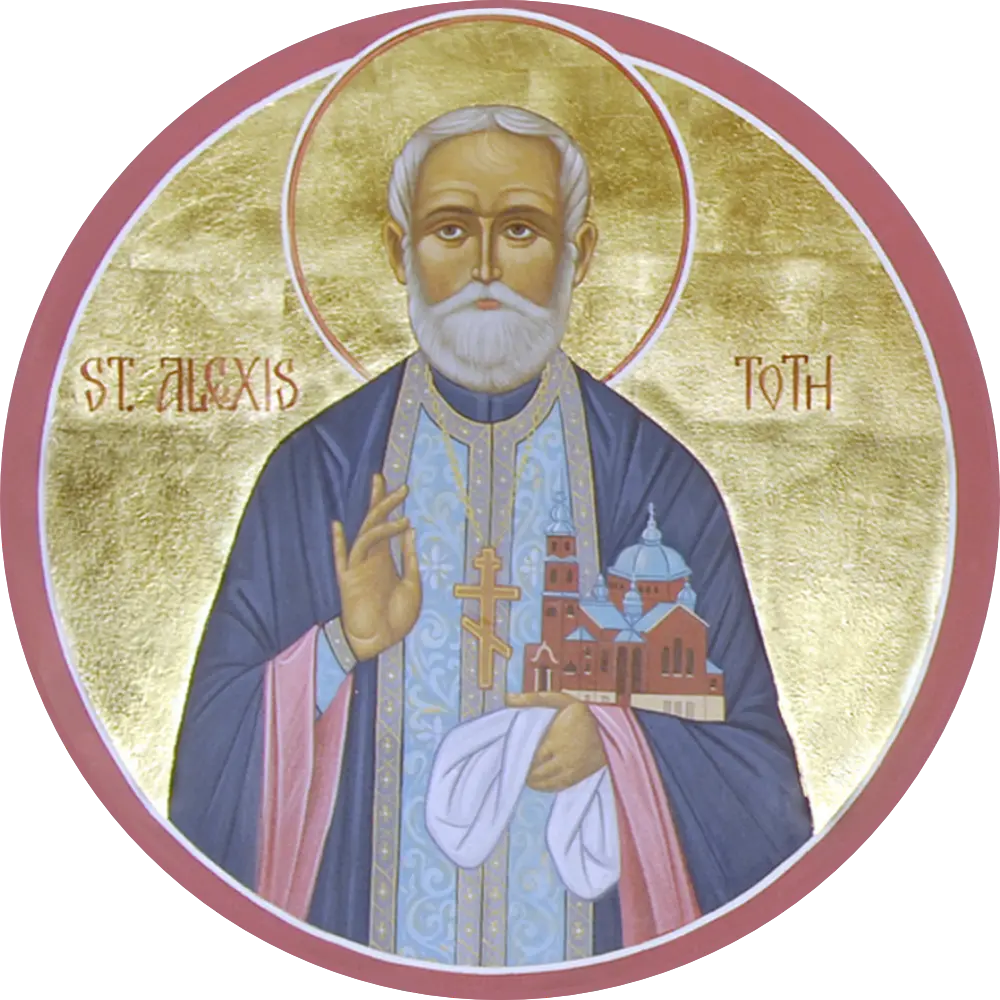 St. Alexis of Minneapolis
Alexis Toth was born in Slovakia, a part of the Austro-Hungarian Empire, where the Orthodox faithful had been forced to unite with Rome. As an Eastern Rite Catholic, Alexis longed to be a priest and studied both at seminary and at the University of Presov. He was married and ordained a priest in 1878, but soon afterwards his wife and only child both died. Fr. Alexis immigrated to America in 1889, and was assigned to serve a Slavic community in Minneapolis, Minnesota.
Upon his arrival, he reported to the local Roman Catholic bishop, who ultimately protested his non-Roman pastorate and denied him his parish. Because of this, Alexis saw an excellent opportunity to seek formal return to his ancestral Faith. He traveled to San Francisco to meet with the ruling Orthodox hierarch, and in 1891, on the "Sunday of Orthodoxy," Fr. Alexis and his entire congregation, were received back into the Orthodox Faith. Fr. Alexis later traveled throughout the United States, laboring and encouraging many other Eastern Rite Catholic parishes into reunion with the One True Church. For this reason St. Alexis is given the distinction of "Defender of Orthodoxy in America".
St. Alexis' icon shows him as a priest, and in his hand he holds the historic Protection of the Blessed Virgin Mary Cathedral in Minneapolis – the first parish to return to Orthodoxy.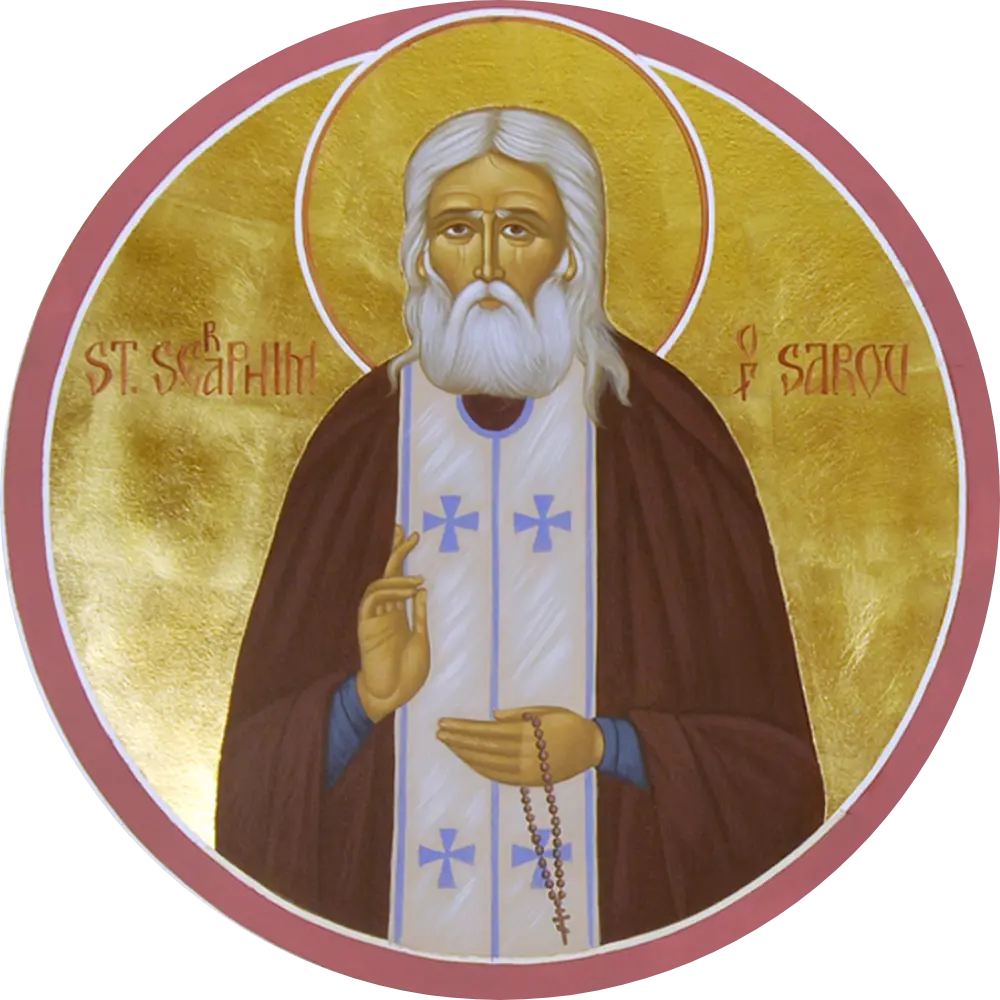 St. Seraphim of Sarov
St. Seraphim is a beloved saint not only in his native Russia, but throughout the entire Orthodox world. He was an extremely devout priest-monk who lived during the 19th century, practicing extreme forms of asceticism and silence. Seraphim lived much of his life in solitude within the vast forests of Russia, and spent countless hours in deep prayer and fasting. He was often seen feeding the many animals of the forests his own meager food rations, and he even had a bear that would come to him like a well-trained pet! Because of his reputation as a "staretz" or "spiritual elder," people routinely flocked from all over the country to Seraphim's tiny cell for guidance and blessings, sometimes even traveling by foot for months on end. In 1903, one hundred years after this saintly monks death, Czar Nicholas II – himself now a saint of the Church – initiated the formal proceedings for Seraphim's canonization.
St. Seraphim is known for the many miracles attributed to him, as well as for his famous sayings. Chief among these was also one of the most simple. For once, when the Holy Elder was asked how one could effectively spread the Christ's Gospel unto others, Seraphim said, "Acquire the Holy Spirit yourself, and hundreds around you will be saved."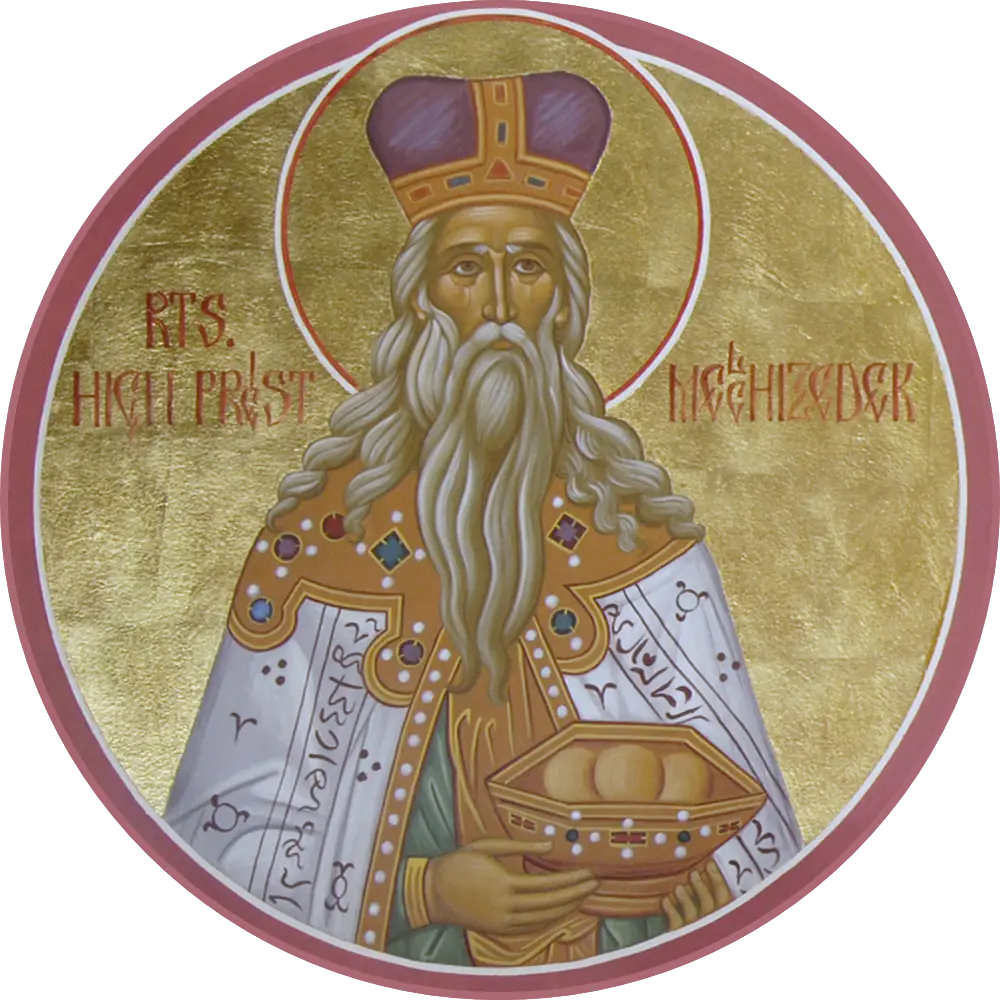 The High Priest Melchizedek
When Abram heard that his kinsman had been taken captive, he led forth his trained men, born in his house, three hundred and eighteen of them, and
went in pursuit as far as Dan. And he divided his forces against them by night, he and his servants, and routed them and pursued them to Hobah, north of Damascus. Then he brought back all the goods, and also brought back his kinsman Lot with his goods, and the women and the people. After his return from the defeat of Chedorlaomer and the kings who were with him, the king of Sodom went out to meet him at the Valley of Shaveh (that is, the King's Valley). And Melchizedek king of Salem brought out bread and wine; he was priest of God Most High. And he blessed him and said, "Blessed be Abraham by God Most High, maker of heaven and earth; and blessed be God Most High, who has delivered your enemies into your hand!
Genesis 14:14-20
After Abraham rescues his nephew Lot and is victorious in a battle with kings from the east, Melchizedek – the King of Salem (Jerusalem) and Priest of the God Most High – comes upon the battlefield bringing with him bread and wine. In return, Abraham shows his respect by pledging to give Melchizedek one tenth of all his spoils. Though little else is known of Melchizedel he has come to symbolize the ideal priest-king.
Therefore, he has come to prefigure Christ Himself – the true High Priest and King.
"Thou are a priest forever after the order of Melchizedek" (Psalms 110:4).
Melchizedek is also shown in priestly robes much like Aaron, and he holds in his hand a bowl containing a bread offering.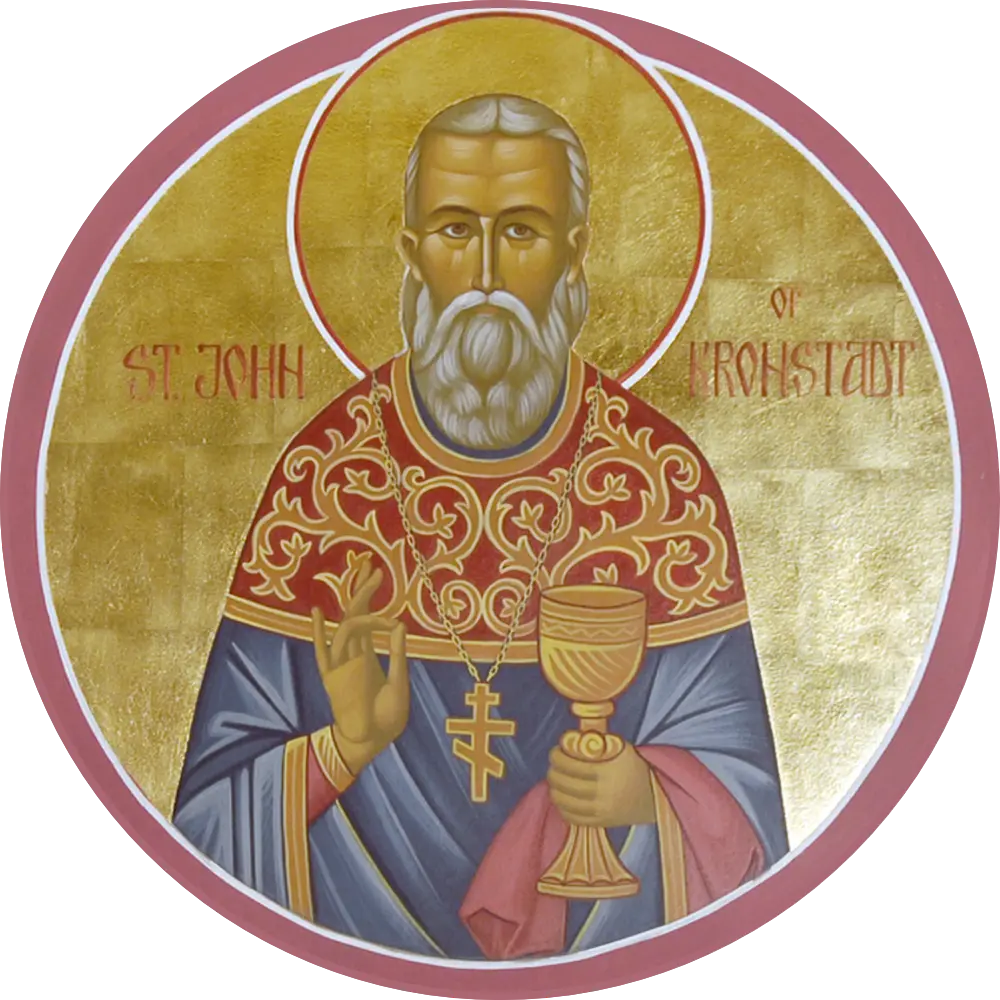 St. John of Kronstadt
Fr. John Sergiev was born in 1829, to a very Faith-centered family who could trace over 350 years of clergy within their ancestry. Fr. John seemed naturally drawn into this life of church ministry, and upon his completion of seminary studies and ordination in 1855, he was assigned to St. Andrew's Cathedral in the seaport town of Kronstadt, just outside of St. Petersburg. Although this port was rather a "rough" place, through his extreme spiritual zeal, charismatic sermons, and with a determination to revitalize the Holy Eucharist, Fr. John "polished" his parish into a jewel of spiritual renewal. Because of his noted spiritual counsels, writings, and philanthropy, Fr. John was sought out by faithful from throughout Russia; even by the Czar and his family. Fr. John Sergiev reposed in the Lord in 1908.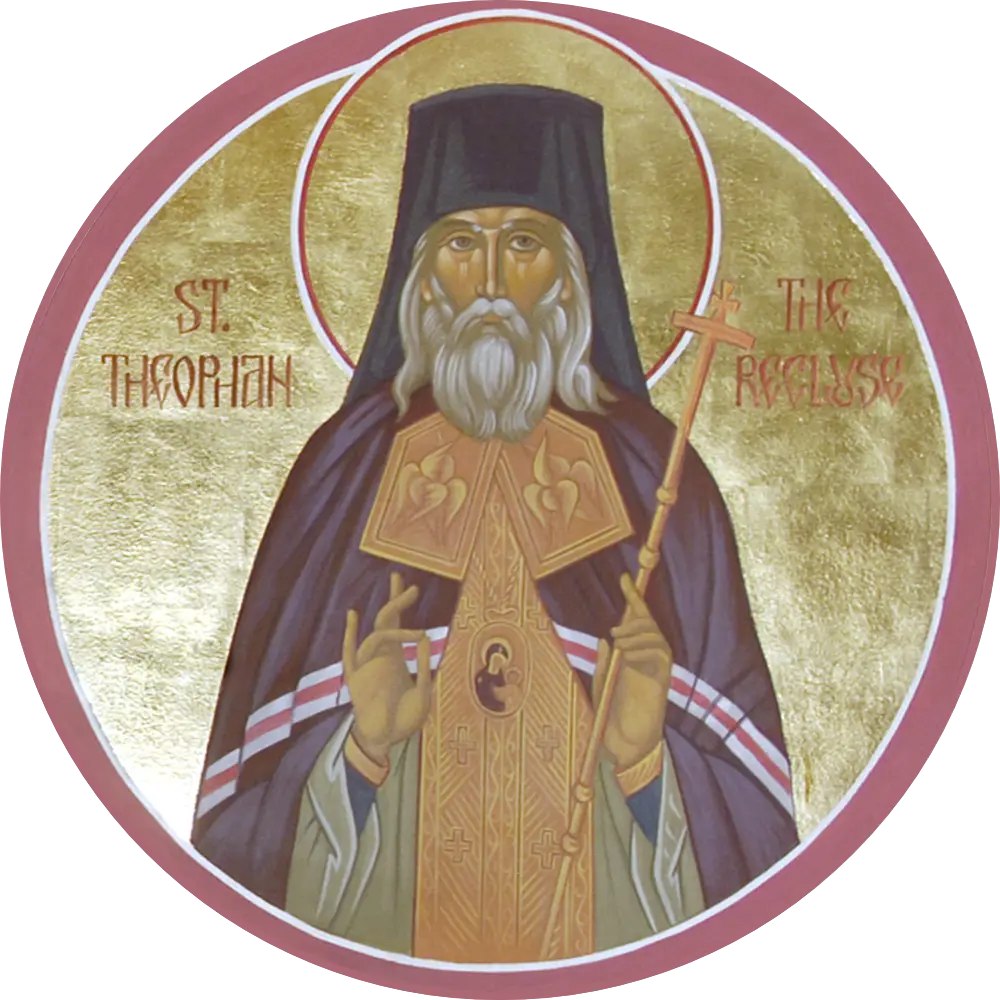 St. Theophan the Recluse
Theophan was born George Govorov, to a priestly family in 1815. He lived and grew in an atmosphere steeped in Orthodox tradition and eventually attended the famed Kiev Theological academy. In 1841, at the age of only 26, he became both a Hieromonk and a Master of Theology. Theophan accepted the position as Rector of the St. Petersburg Theological Academy, and in 1859 became the bishop of Tambov. He later became the bishop of Vladimir but longed for spiritual solitude. Eventually granted an early retirement, Theophan retreated into a monastery where he became a spiritual "recluse" within his cell. He spent many years laboring in prayer and writing discourses and books on everything from spirituality and prayer, to the proper family life and raising of children. One of his most famous works is the classic, "Unseen Warfare." Theophan fell asleep in the Lord 1894, at the age of 79, and was canonized by the Russian Orthodox Church as part of its millennium celebrations in 1988.